The next evolution of Job Board Software
Create your job board today
Schedule your FREE demo.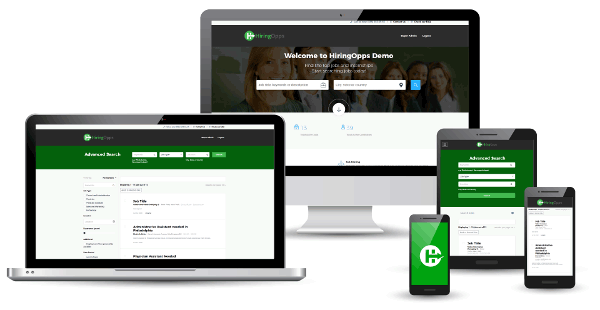 Features
---
Video Interviews
We are the first job board platform to integrate a video interview platform. Upsell your employers on this great recruiting tool! An InterviewOpps subscription is required.
Custom Fields
As the Job Board Owner, you have full control to add custom fields to jobs, candidate profiles and company profiles.
Job Backfill
Automatically backfill your job search results with vendors such as ZipRecruiter and Juju to maximize your revenue.
Text (SMS) Messages
Candidates can opt in for SMS notifications about new messages from employers and job alerts.
Zapier Integration
Create Zaps for New Candidate Registrations and New Company Registrations to set up third-party integrations with email marketing sites like MailChimp, ActiveCampaign and more!
100% Whitelabeled
It's your domain, and your site. All communications to your users are sent from YOU!
Job Imports and Scraping
Import jobs with CSV, XML Feed, or scraping for your employers.
Built-In ATS
Employers can move applicants through an internal pipeline with a built-in Applicant Tracking System. They can customize the workflow to meet their unique hiring process.
Search Engine Optimized
Get your job posting listed in Google, Google for Jobs, and Bing automatically with built-in SEO and rich content.
Automatic Candidate Alerts
Automatically alert your Clients about newly registered, matching Candidates via email.
Advanced Messaging Center
Allow Clients and Candidates to message back and forth directly from your job board so you can track performance.
Resume Search for Clients
Allow your Clients to login to their accounts and search for matching Candidates from an easy to use interface.
Complete Administrative Control
Configure every member of your team from your CEO down to Customer Support and define how each member can interact with your job boards.
Data Exporters
Easily automate exporting your job data to search engines like Indeed, ZipRecruiter, GlassDoor, and so on with custom filters.
Employer Profiles
Allow your Clients to showcase their company with unique content to help brand themselves to potential employees.
Custom Pages
As the Job Board Owner, you can modify, add, or delete any page on the job board. It's your site!
Mobile Responsive
These days, 2 out of 3 visitors to your job board are using a mobile device. HiringOpps supports those visitors right out of the box.
Social Network Sharing
Allow companies to share jobs on places like Facebook, Twitter, and LinkedIn.
Recurring Pricing Plans
Do more than job postings! Add customized Recurring Pricing Plans to generate revenue from memberships on your job board.
Automatic Candidate Alerts
Keep your Candidates engaged by automatically sending them the latest job matches to keep them coming back.
Advanced APIs
Looking to integrate a specific vendor into your system? We provide a candidate search API and a job application API for your custom needs.
Customizable Plans/Addons
Completely customize your job board by creating Plans and setting Prices for your Clients to purchase on their own.
Customer Support
Our customer support response times, uptime, service monitoring, and outage mitigation times are second to none. We're here for you!
Build Your Network
Are you planning to have multiple job boards within your network? HiringOpps allows you to create multiple job boards to extend your reach.
Partner Integrations
Integrate with dozens of human resources and applicant tracking systems using our APIs for job applications and candidate search.
Automated Billing
Bill your Clients through Stripe or PayFlow, Braintree, Authorize.Net or Invoicing. We provide the subscription tools you need.
Blogging and Content
Make your job board a unique experience for your visitors by adding your own custom blog and web site content.
Custom Themes and Content
Stand out from your competition by completely customizing your job board with your own web site and email themes as well as unique content.
Testimonials
---
Excellent Job Board + Incredible Customer Service
HiringOpps is an awesome job board platform. It has a professional look and advanced user capabilities that really make my website stand out. What I like most about the platform is how user friendly it is for job seekers. Also the customer service has been top tier.
Keesha M.
Owner Staffing and Recruiting
Tremendous Customer Support - Great Value Jobboard Software
Feature rich for the initial setup and ongoing subscription fee - Easy administrative tools on the backend - Tremendous ongoing support from HiringOpps team - for additional features, questions, support. - Flexible system able to adapt to multiple users and their ATS systems - System and software to grow with us as needed. - Customized as much as possible to our specific target audience
Nathan H.
Director, Existing Industry Services Government Administration
Software meets all expectations
HiringOpps offers a number of good features to have a successful job board for your web site. Integration with our web site was fast and easy.
Robust Software and Excellent Support
The platform allows our team to do everything we need to engage our audience. We were able to customize the software to match our brand and we used only the features we needed. Very easy to set-up and use on a daily basis.
View more verified reviews here!
We're here to help!
Do you have questions about how our job board software works or another general inquiry? Please fill out the form below and we'll be in contact within 1 business day!
Built by job board owners,
for job board owners
HiringOpps was founded by a team of job board owners/operators and technology experts with a combined 50+ years in the talent acquisition industry. We understand which tools make a job board competitive, scalable, and effective and we're committed to empowering you to build the best job board experience for your audience.
When you sign with us, you not only get a powerful platform with advanced customization and configuration abilities - you're getting a partner with valuable first-hand experience as job board owners.